Lifetime Deal
Pagico 9 Review
Launched on October 16, 2019, Pagico 9 will help you centralize all your work and stay on-track with ease. Boost your productivity with style.
Pagico 9 Lifetime Deal
TLDR: Pagico 9 is the smart, intuitive task management system that goes beyond a to-do list — and it's 50% off. It doesn't matter whether you run a business or you are doing a job, you have to multitask many times. Has it ever happened that you mismanaged one important task because you were busy doing another? Meet Pagico 9, This elegant software combines all of your tasks, files. Pagico is a personal database that helps you to manage and keep track of everything: notes, tasks, lists, files, projects and contacts. You can store all kinds of things in its database,. Pagico features a simple drag-and-drop interface makes intuitive organizing easy and efficient, saving you time and data overload with a bunch of cluttered bullet points on tasks, reminders, and notes. Work smarter and accomplish more by managing your work with Pagico 9. Turn to-do lists into meaningful timelines.
Boost your productivity with this tool's task timeline, project visualization, daily planning, & cross-links.
Pagico 9
Don't ever miss a deal — enter your email to get the latest deals!
View similar active deals ➔
Pagico is one of the few apps that combines task and data management into an easy-to-use package. This software turns to-do lists into meaningful timelines, visualizes project status, centralize tasks, cross-link everything, neatly tag projects, and more in just a few clicks.
Pagico 9.5
Highlights (TL;DR):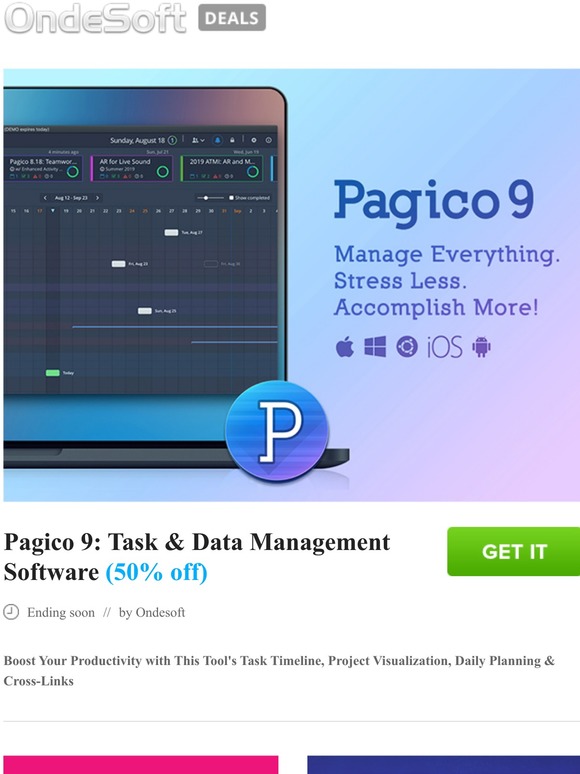 Turn to-do lists into meaningful timelines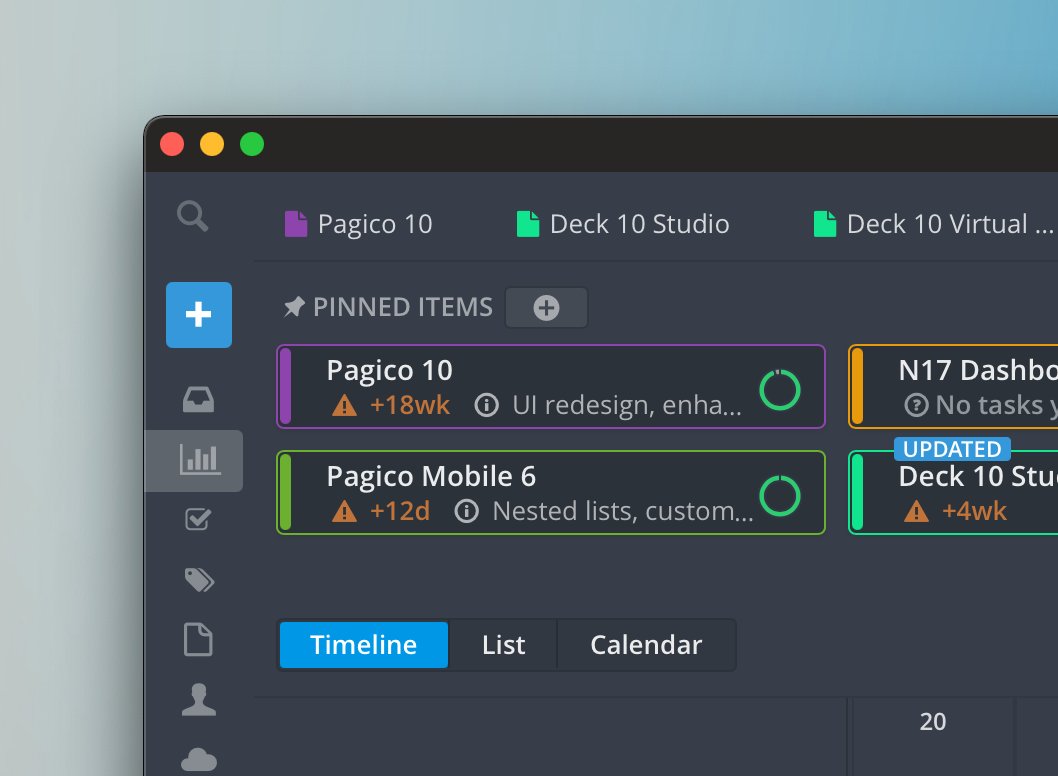 Prioritize & reschedule your tasks by simple drag-and-drop
Quickly travel through multiple levels of your tags to find the right projects
Find & group your stuff automatically based on criteria such as tags and keywords
Pagico 9 Download
Visualize the health status of your projects in a simplified & intuitive way
Have your vacation itineraries stored right next to restaurant menus & action items right on top of meeting notes
Cross-link menus, travel itinerary, phone call actions & more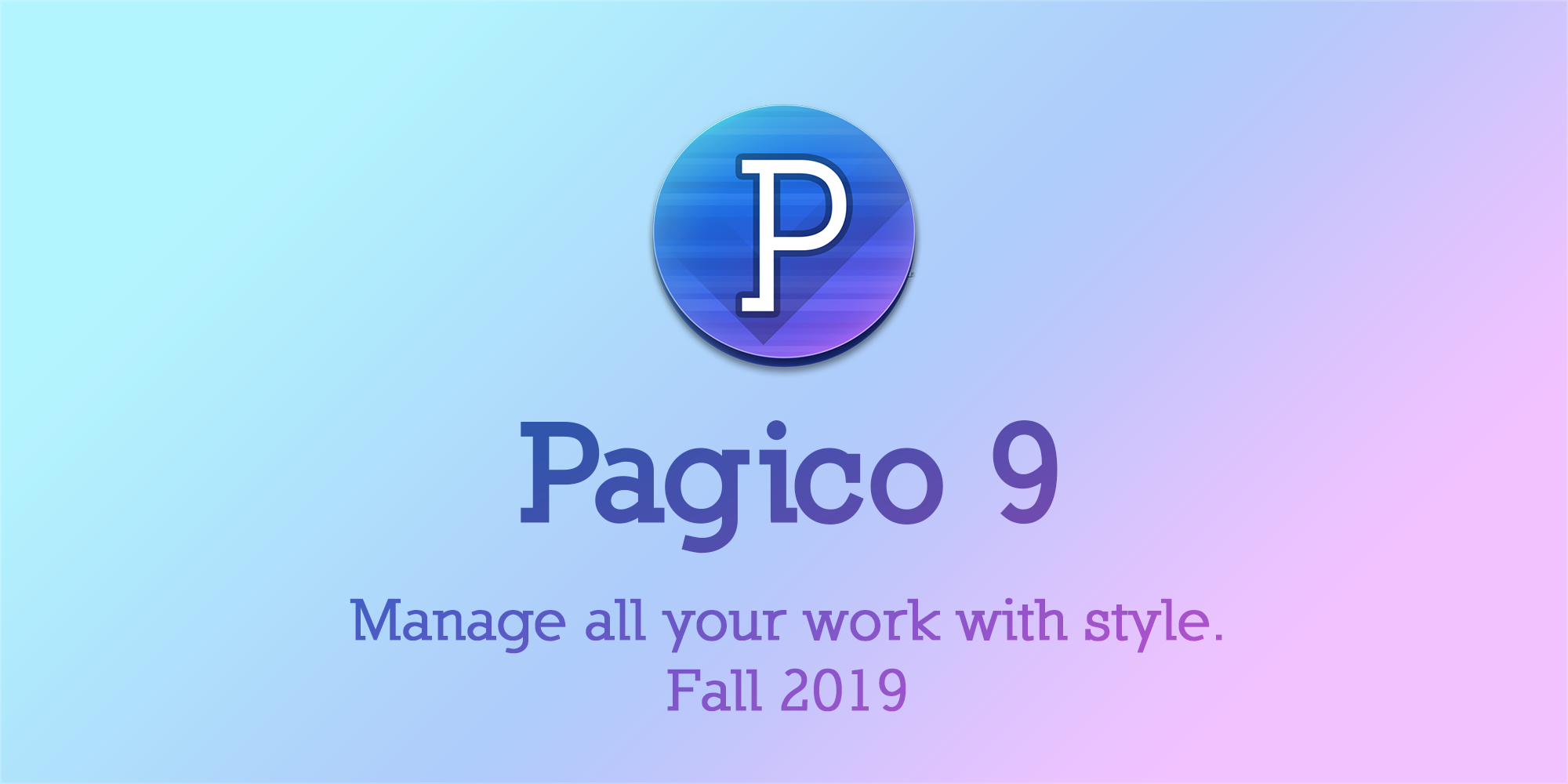 Use the Pagico browser extension & turn webpages into tasks
Show more information
Deal Group Discussion
Pagico 9
We have not discussed this deal on our private Facebook group. If you are interested, you can join and start a discussion at https://www.facebook.com/groups/alstonantony
Pagico 8 Vs 9
10X Faster Performance
Pagico 10 employs a completely rewritten frontend data engine, making everyday interactions substantially faster than version 9. All UI operations complete instantly, so your Pagico experience is smoother than ever.
Enhanced Data Sync
The sync algorithm has been further improved. The end result is that most sync cycles now finish under 2 seconds, a 6X improvement over version 9. The improved sync also eliminates a substantial number of wasted cycles too!
Enhanced Timeline
The timeline is now minimalist in style, so you get to see your workload in more clarity than before. The year view also extend to 18 months, giving you a bigger scope when making long-term plans.
Improved List Item Editing Experience
Edit list items with a single click
Share-able Templates
The new container templates can be exported and imported, and can also be shared in teams. This way you can develop a set of shared templates and everyone on your team can benefit from them.
Unified Timeline and Calendar
The timeline, list view and calendar views are now integrated to use space more efficiently.
Compatible with macOS 10.11 and up (including macOS 11 Big Sur and native support for M1 Macs), Windows 10 and Ubuntu 19.04 - 21.04
Available in 10 languages.
English, Deutsch, Español, Français, Italiano, 日本語, Nederlands, Polski, русский язык and 简体中文.
Lots of other minor tweaks that improve the overall user experience.